Your chief information officer (CIO) has responsibilities that have a huge impact on your organization. Managing the organization properly is just the tip of the iceberg. Being a CIO calls for implementing and taking responsibility for your entire organization's IT strategy.
So while certain technical skills are absolutely essential, today's CIO must have qualities that go beyond information technology to those befitting a strategic business role. We've listed the top three below: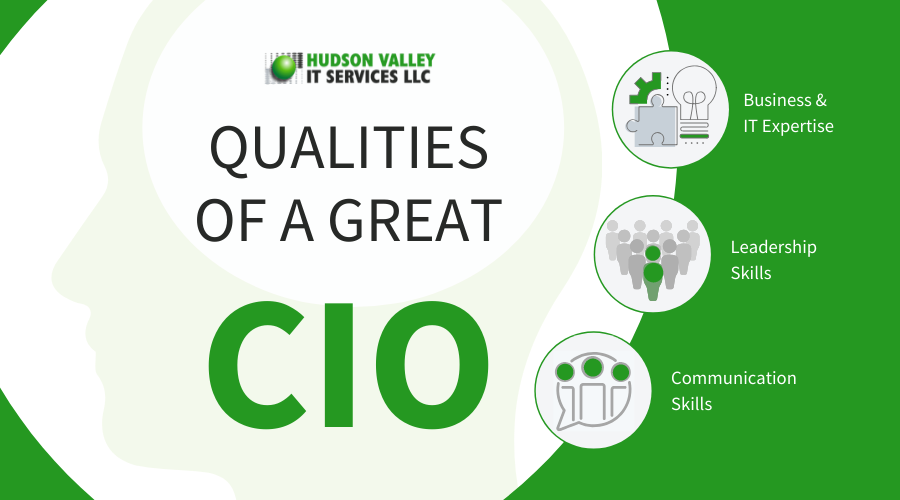 Leadership
Some organizations and teams mistakenly place an emphasis on being charismatic and outspoken, and other similar attributes as defining characteristics of a leader. But if there's anything that truly defines leadership and captures the trust of members, it's results. So when it comes to leadership, only qualities that produce positive results for your organization really count.
Leaders must develop a results-oriented management and leadership style through a variety of exercises or activities. Seeking mentors and participating in external activities such as leadership forums are some well-established ways to do this. Invest in continuous learning on authentic leadership styles by habitually reading literature from experts.
Additionally, produce results by adopting a transformational leadership model. In other words, encourage, inspire, and motivate employees to innovate and create change that will help grow and shape the future success of your organization.
Combined business savvy and technology expertise
CIOs today are expected to be visionaries, not just IT-focused executives who oversee the hardware, software, and data that help members do their jobs effectively. They need to come up with strategies and goals for company growth, ones that drive business innovation and transformation. Having a business drive is fundamental. In other words, your CIO will necessarily shift their primary focus from process improvement and optimized efficiencies to customer-facing revenue-generating activities.
And as the role of the CIO has evolved, it's no longer only for those who have a professional background in IT. It's not uncommon nowadays for a team of tech professionals to be led by someone who isn't technically inclined. Additionally, it has become increasingly critical for those assuming the role to have business savvy.
Download our free eBook!
Unsure how to maximize your business's potential for growth? Our free eBook, Potential Unleashed illustrates common beliefs that distract them from making healthy business decisions and how the right mindset can turn things around.
But a CIO who is also technologically adept is one who will edge out one who's primarily a manager. After the CEO, the CIO has more responsibilities than anyone else in an organization. That's because they are tasked to create a technology strategy that provides business value and sustains company growth.
Your CIO must also create strategies that will help your organization stay ahead of competitors, including staying abreast of emerging technologies. And since there's always going to be another IT challenge around the corner, a CIO who is an excellent IT strategist will be prepared to manage technology-related risks that could leave your organization vulnerable.
Communication skills
A CIO needs to be a master communicator. Failing to listen, acknowledge, and respect colleagues can lead to disaster. Playing the blame game could also damage a CIO's reputation and trustworthiness. But more importantly, being able to communicate change through technology is essential to gain stakeholder trust and confidence, whether from the business's various stakeholders or the IT team.
CIOs must also be able to explain the most difficult technology concept in the simplest terms. This allows them to work closely with the least technologically savvy board member and frame a new tech-driven strategy so that it could be easily explained and understood at every level of the organization.
The ability to communicate the connections between tech and business is vital to solving problems in a fast-paced workplace. That means a CIO must able to help the IT team understand the value of thinking of technology in a way that's greatly relevant to the business. And because business stakeholders tend to get tired of IT departments telling them what technologies to use, a CIO leads the IT department in understanding what technology non-IT members believe will support their own needs and deliver value.
At Hudson Valley IT Services, driving business innovation and transformation through technology is our passion. As a small business, you don't have to grapple with IT hurdles alone and miss business growth opportunities. Partner with us by speaking to our most experienced, knowledgeable, highly skilled, and certified consultants right now.
Like This Article?
Sign up below and once a month we'll send you a roundup
of our most popular posts